Let's begin
Fresh ground lamb, sun-dried tomatoes,
Feta Cheese
, spices
Put your meat in a mixing pan and sprinkle your spices all over the lamb.
Next, add your diced sun-dried tomatoes and then crumble your
Feta Cheese
all over the meat.
Mix thoroughly and then mix thoroughly again.
Run it through your meat grinder.
When your sausage looks well mixed let it age for a few hours to overnight before it is cased.
Steady, even pressure is important to shape links
Pinch and twist and you have
link sausage!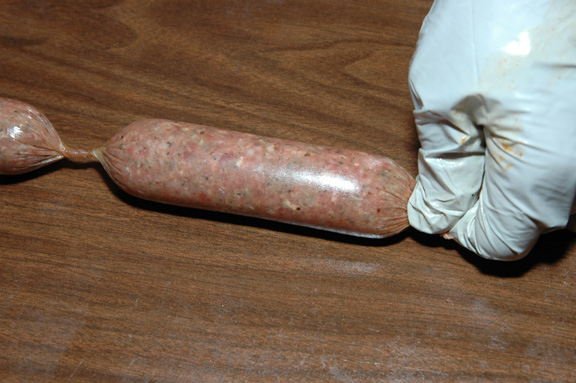 I enjoy sausage in patties and links and always make some of each.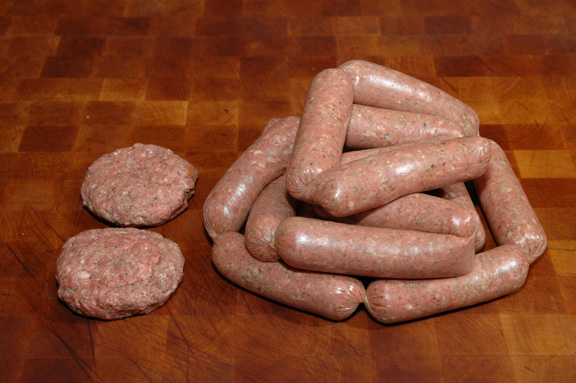 They look tasty even before they're cooked.
Warm
Anasazi beans
with
salad dressing surrounded by
green beans
,
Aussie Lamb Sausage
and
Feta Cheese
garnished with sun-dried tomatoes.
Absolutely Delicious!
Warm Anasazi Bean and Aussie Lamb Sausage Salad

¾ cup dried anasazi beans
¾ pounds Aussie lamb sausage
6 tablespoons olive oil
5 tablespoons red wine or cider vinegar
½ teaspoon dried basil
salt and pepper to taste
½ pound green beans, canned or re-hydrated
Feta cheese

Pick over and discard any damaged beans or stones. Rinse and place in bowl. Add plenty of water to cover and let soak for 1 hour. Drain, place in saucepan with enough water to cover beans by 2 inches. Bring to a boil, reduce heat to low and simmer uncovered for 30-45 minutes, until tender.

If using dehydrated vegetables, place in bowls and cover with hot water until re-hydrated. When hydrated, heat vegetables in fresh water until hot. Drain.

If using canned vegetables, heat in liquid until hot. Meanwhile, cook sausage until browned and done. Slice in long diagonals, set aside and keep warm.

Whisk together the oil, vinegar, salt and pepper and basil. Drain anasazi beans. Add half the dressing and toss.

Place anasazi beans in center of platter; arrange green beans, feta, and sausage around beans. Garnish with sun-dried tomato. Pass condiments or salad dressing around the table with salad platter.