An old friend of mine prepared this meal for me using alligator as the meat. It was as fine a dish as I've eaten and it works well with other game meat. It has a little zing to it and the flavors are mouth watering!


Ingredients:
2 lbs venison
1 tbsp garlic powder or chopped garlic
1 tbsp Tony C's or other Cajun seasoning
1˝ tbsp ground cumin
1˝ tbsp chili powder
2 cups chopped onion
1 cup Worcestershire sauce
˝ cup soy sauce
3 tbsp lemon juice
1 cup oil (I used ˝ olive oil and ˝ sunflower oil)
1 cup chopped celery
4 cloves garlic
1 cup chopped green pepper
2 (15 oz) cans diced tomatoes with basil,garlic and oregano
1 (15 oz) can plain diced tomatoes
2 bay leaves
1 tbsp sugar
2 beef bouillon cubes

First, you need to marinate your meat. This gives the meat time to submit to your taste buds. Sprinkle meat with garlic and Tony C's seasoning. Add half the onions, Worcestershire, soy sauce and lemon juice. Mix together and marinate overnight.


Remove meat from marinade and fry in oil until meat is brown. Place meat in 6 qt pot.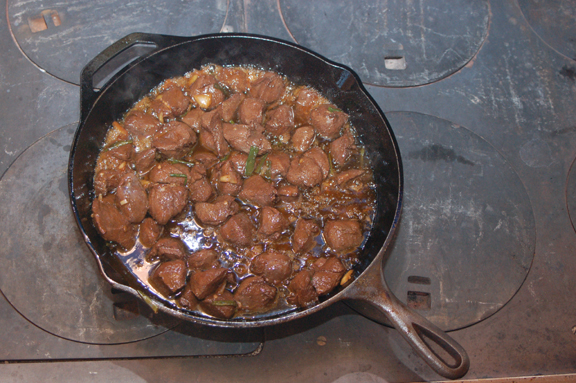 Drain oil leaving enough to sauté the rest of onions, celery, garlic and pepper until tender. Add the vegetables and all the other ingredients to meat. Also add about 1/2 or more of the marinade to taste.


Cook for 45 min. Serve over rice or eat as a stew.
Serves 8
Canned for future use: